Horse Riding in Marbella and Estepona is a popular activity for kids and adults. Finca Siesta offers horse riding lessons and initiations for kids from 2 till 18 years old.   
All lessons are PRIVATE (no group lessons) and are given by certified instructors with years of experience.
We are specialised in lessons for beginners and more experienced riders who want to refine their riding skills.
We have the best pony's for kids lessons or initiation sessions.
All our lessons and sessions are in our horse riding piste.  For safety reasons, we don't offer horse trails outside.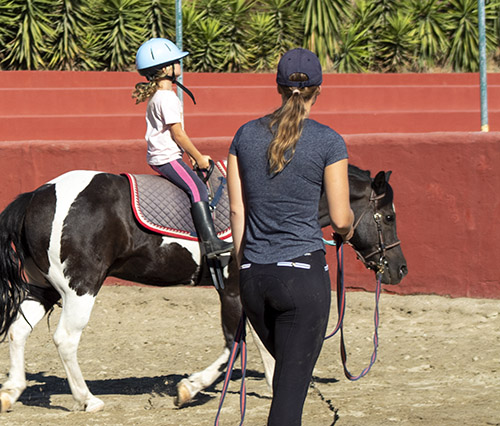 TEMPORARY NO HORSE RIDING AVAILABLE
Because of transfer of our license as riding school, we are awaiting the new license.  In the meantime we are not allowed to give any riding lessons.  As soon as the new license is aquired, this message will disappear from our website.
Horse / pony riding terms & conditions
All lessons are private and on appointment
All lessons are on own risk, using our services = waiver of liability
Guests staying at Finca Siesta get 10% reduction on all lessons
We only accept kids & young adults as riding clients.  
For the horses health we have a weight restriction